Omega-3 production from algae
DSM and Evonik joint venture Veramaris to produce omega-3 fatty acids from algae Schizochytrium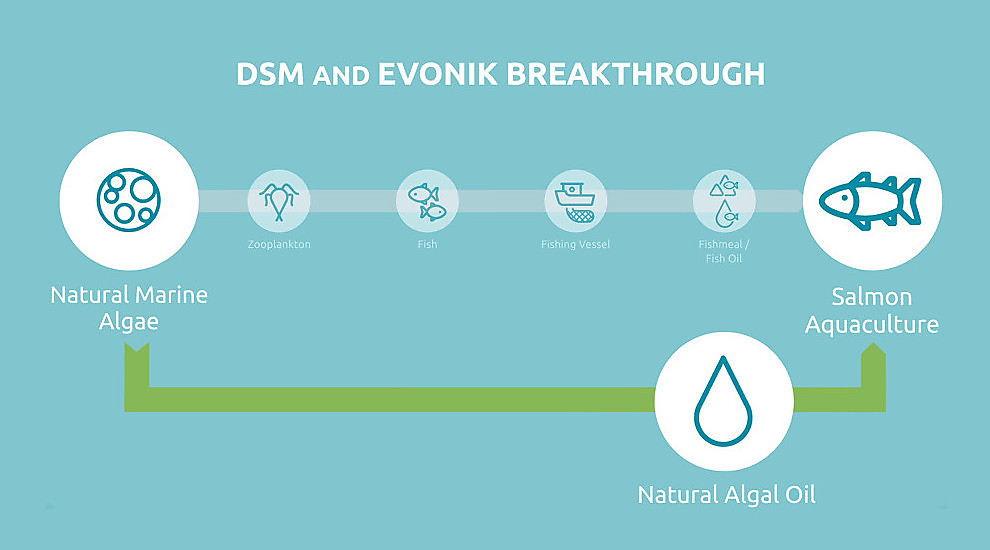 As with essential amino acids, some long-chain fatty acids (especially the polyunsaturated ones) can't be produced by our bodies but have to come from outside. And the most well known ones are the Omega-3 fatty acids. The most widely available dietary source is oily fish, such as salmon, herring, mackerel, anchovies,and sardines. But overfishing makes fish farming necessary; especially salmon is being farmed on a huge scale. But these fish are not a primary source of omega-3 either for they don't produce these acids just as little as we do. They get it from little fish and krill (2.6 kg/kg salmon), who in turn get it from the primary source: algae.DSM and Evonik have set up a 50/50 joint venture under the name Veramaris to produce omega-3 fatty acids from algae (Schizochytrium). They claim that 1 kg of their algal oil can replace 60 kg wild catch fish. That makes growing salmon a lot more sustainable.DSM's expertise is in the cultivation of marine organisms including algae and long-established biotechnology capabilities in development and operations, whilst Evonik's focus has been on developing industrial biotechnology processes and operating competitively large-scale manufacturing sites for fermentative amino acids. Worldwide fish oil production is approximately one million metric tons per year. Evonik and DSM aim at 15% of this market with their algal oil as a sustainable non-fish alternative.
Je kan dit artikel volledig lezen na registratie
Gratis verder lezen?
Registreer en word gratis online abonnee
Ben je al abonnee?
Meld je aan en krijg toegang tot de website
Het online abonnement kan u te allen tijde en zonder verdere formaliteiten opzeggen. Wij garanderen u dat uw e-mailadres en andere persoonlijke gegevens nooit aan derden worden doorgegeven en enkel gebruikt worden voor het versturen van het online magazine.
Door u in te schrijven, gaat u akkoord met De privacyvoorwaarden.